Benefit from ICT
Your business can benefit from the smart use of ICT.
Invest NI's E-business team can provide advice and support to export-focused businesses considering implementing Management Information Systems such as customer portals, e-commerce, finance systems, CRM, ERP/MRP systems, digital automation and other software that makes smarter use of data across the business.
Our E-business advisors can provide tailored advice on a range of Information and Communication Technologies (ICT), E-commerce and Management information systems.
Management Information Systems (MIS) can:
Provide opportunities for digitisation and digital transformation of key business operations to increase productivity and operational efficiency

Improve information flow across the business and potentially also through your supply chain and customers

Provide greater visibility of key information from across the business to improve processes, management, reporting and decision making
Where financial support is applicable there may be assistance for:
One-off software costs of Management Information Systems
Associated setup/configuration and user training of the software
Before offering any financial support, one of our advisors will do an appraisal of your proposed MIS project. The project must show a stepped change in ICT usage sophistication / digital transformation for your business.
---
Not sure that this support is right for you? Contact us and we can explore options for your business together.
Our support may be subject to some eligibility criteria.
---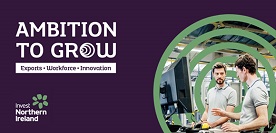 Ambition to Grow
Receive up to £45,000 in funding and Invest NI support.
nibusinessinfo.co.uk guides