Reduce waste and save energy
Investment in energy efficiency and waste management projects will reduce your business costs significantly.
We provide expert advice to Northern Ireland businesses to help develop business specific waste management strategies. Our tailored advice, support and funding can help your business operate more efficiently, minimise waste, reduce costs and improve your impact on the environment. 
Support includes:
Sustainability Reports to assess, measure and monitor environmental impact and performance
Technical consultancy for bespoke energy and waste management strategies and recommendations
A resource matching service to manage waste and reduce costs
Investment funding for energy saving equipment
---
Animation - How Invest Northern Ireland's Energy & Efficiency team can help you
---
Resource efficiency guides
We have produced a series of best practice resource efficiency guides on topics including biomass, lighting, packing, waste minimisation and water efficiency to name a few.
---
Not sure that this support is right for you? Contact us and we can explore options for your business together.
Our support may be subject to some eligibility criteria.
---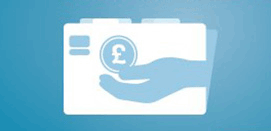 Claim pack
New pack and guidance for submitting your claim
nibusinessinfo.co.uk guides