Develop business strategy
Do you know where you're going? We can help you set a clear direction for your business.
You are looking to grow your business but when was the last time you stopped dealing with day to day stuff and really analysed your current performance?
Business Direction tutorial
You should take our business direction tutorial first if you want to set the right direction for your business. There are six chapters. It will take around 30 minutes but you can do it in your own time or one chapter at a time. There are practical exercises to do as you progress through the tutorial so allocate time to do it.
It is also widely recognised that investing in leadership skills significantly helps a company to develop a strategic plan to underpin the direction the business will take on a path to growth.
If you want support to develop your business direction and your leadership capabilities you should consider our strategic leadership development programmes. There are three available.
Leader programme
The Invest NI Leader Programme (PDF) is specifically designed to enable SME leaders to grow their business. It offers participating companies an opportunity to assess their performance. It combines one to one and peer learning in addition to the latest leadership thinking from experts and guest speakers.
You will benefit from the advice of an experienced business mentor to assist you in the development of a growth action plan. You will gain an insight into the personal leadership style of your business through engaging with an executive coach. There will be an opportunity to engage in significant learning opportunities with other SME business leaders in group networking.
Leadership Team programme
We also run the Invest NI Leadership Team Programme (PDF). This programme focuses on developing the skills, strategic focus and relationships of the top team in order to achieve business growth. It combines world class executive education modules, with specialist business coaching for executive teams and shared learning through peer networks. In addition participants gain a deeper understanding of how to develop and implement strategies that drive sustainability and international growth.
Provided in partnership between Invest NI, Dublin City University Business School and Wilson Sloan Consulting, the programme combines executive education modules, with specialist business coaching and shared learning through peer networking.
The Leadership Team programme focuses on the following business areas:
Strategy
Top team cohesion
People development
Communication
Business development
Innovation strategy
Sales & Marketing
The programme provides participants with:
Enhanced personal resilience to manage the challenges faced by leaders in a growing business
Head-space to reflect on your role within the senior team
Opportunities to consider specific issues and develop solutions in a structured way
Group coaching sessions with experienced specialists to aid cohesion of your executive team and facilitate the collective development of a growth action plan
Enhanced ability to communicate company ambition and vision for the future
Leading within a group programme
The Invest Northern Ireland Leading within a Group Programme (PDF) is open to CEOs and site leads of companies located in Northern Ireland with a parent company based elsewhere. The programme recognises the specific complexities and issues faced by leaders operating within a wider Group/global structure.
You will be inspired to think and act differently and will be equipped with the tools to help you develop a growth plan. Through a tailored executive education programme you will have access to global best practice in leadership and will work with executive coaches to build your leadership competencies and drive the growth of your business.
If your business is an Invest NI customer you can apply to take part on our Leader programmes. For information on dates and the application process please contact our Business Support Team on 0800 181 4422 or make an online enquiry
---
Not sure that this support is right for you? Contact us and we can explore options for your business together.
Our support may be subject to some eligibility criteria
---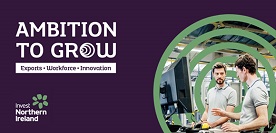 Ambition to Grow
Receive up to £45,000 in funding and Invest NI support.
nibusinessinfo.co.uk guides