Develop new export markets
Put away your scattergun. We'll help you take a structured approach to exporting.
If you want to reach new customers and develop markets outside Northern Ireland, our network of Trade Advisors in Northern Ireland and 24 locations around the world can help.
They will tailor our programmes, market visits, specialist advice, market intelligence and financial support to the needs and export experience of your business.
We can assist with:
Overseas market research
Export skills and building export capability
Market scoping and market entry planning
Lead generation and identifying in-market partners
Market visit programmes and trade missions
Translation, interpreting and legal services
Export-related financial incentives
Market and sector specific events
If you are exporting for the first time, we can help you expand into the Republic of Ireland or Great Britain through advisory workshops, one-to-one mentoring and support to develop your trade action plan.
Tap into our unique combination of professional trade advice, industry knowledge and in-market expertise by participating in our annual programme of export events including sector-focussed visits, trade missions, exhibitions and international business development events.
Our Business Information Centre at Invest NI's headquarters in Belfast, has extensive market research and worldwide company directories that you can use to gather insights into potential market opportunities, consumer demands and in-market partners or suppliers.
More experienced exporters can use Innovate UK EDGE Northern Ireland to connect with over 600 partner organisations in over 50 countries, become more innovative, collaborate at an international level and develop new markets.
---
Not sure that this support is right for you? Contact us and we can explore options for your business together.
Our support may be subject to some eligibility criteria.
---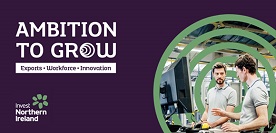 Ambition to Grow
Receive up to £45,000 in funding and Invest NI support.
nibusinessinfo.co.uk guides