Support for High Potential start ups
High Potential start-ups (HPSUs) are young, early-stage companies, with ambitious management teams.
They have the potential to develop new innovative products and services, or are using existing technology to disrupt traditional industries, and a drive and capability to succeed on a global scale.
Eligible businesses can access support to develop their proposition and address weaknesses, get advice, guidance and signposting to available support.
To be eligible for support business must be:
Headquartered in Northern Ireland
Credible with an experienced management team
Have registered the company within the last five years
Engaged in manufacturing or tradeable services
Creating significant market opportunity with a new innovative IP/technology /service
Capable of reaching £1m turnover and 10 employees (average salary £25k) within three years 
Trading at least 30% to export markets
Capable of securing external/matched funding within 18 months
If you would like to talk with us about support for your High Potential Start Up, complete the enquiry form or call our business support team on 0800 181 4422.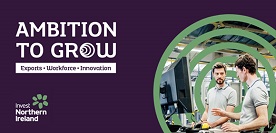 Ambition to Grow
Receive up to £45,000 in funding and Invest NI support.
nibusinessinfo.co.uk guides