Support for start-ups with export potential
Looking for customers in new markets
Do you have an idea for a business with export or global potential? If so, we have a range of advisory, capability development and financial support that will help get your business off the ground.
You can also access our free business advisory service.
It is on hand to:
Offer tailored advice and guidance
Signpost you to the most appropriate start-up support for your business
Provide information on all of Northern Ireland's business support organisations that could support your business
We also offer a range of financial and advisory support for start-ups with export focused business ideas.
We can help you:
Develop your strategy
Develop new product ideas
Sell outside Northern Ireland
Manage your people and develop their skills
Benefit from IT and implement e-commerce systems
Manage your energy and waste
You can contact our Business advisory service on 0800 181 4422, submit an online enquiry or through our live chat service.
Funding for start-ups with export potential
Our start-up financial support is focused on those businesses that intend to sell outside Northern Ireland. We have five funds, part of our Access to Finance initiative, totaling circa £170 million to help SMEs with high growth potential.
These provide debt and equity investment and include:
nibusinessinfo.co.uk
nibusinessinfo.co.uk is a free service offered by Invest Northern Ireland. It is the official online channel for business advice and guidance in Northern Ireland. Every day thousands of people visit the site for the latest business support, expert advice and new business opportunities.
Key support to guide you through your export journey includes: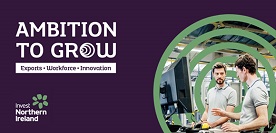 Ambition to Grow
Receive up to £45,000 in funding and Invest NI support.
nibusinessinfo.co.uk guides