#AerospaceNI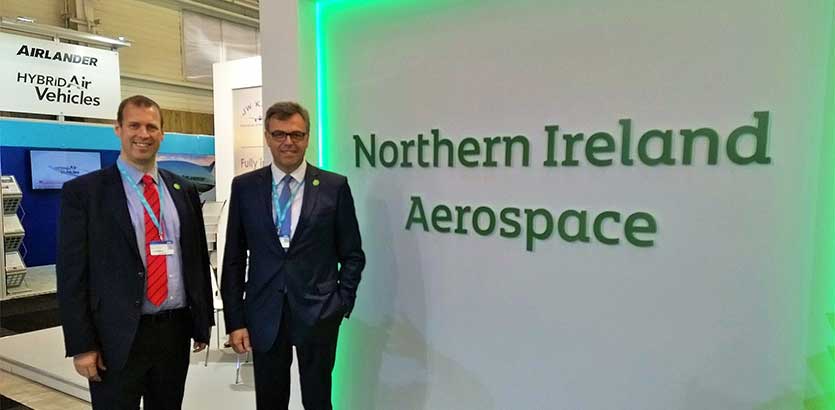 #AerospaceNI has been setting out its stall in Hamburg, Birmingham, Dublin and Paris over recent weeks as businesses from Northern Ireland's aerospace industry showcased their expertise to an international audience.
Northern Ireland Aerospace is a $1.6bn industry and Europe's eighth largest aerospace region in revenue terms, with over 60 companies engaged at the leading edge of advanced aerospace design and manufacturing.
Progress on the Partnering For Growth Strategy has been encouraging over the last two and a half years with businesses working in the industry creating employment and generating more sales.
Regular workshops hosted by the Aerospace Growth Partnership (AGP), a collaboration between Government and industry working together to secure the future of UK Aerospace, offer important updates and a forum for all parties to discuss growth opportunities.
Northern Ireland #aerospace contributed to discussions at @TheAGPUK workshop today about the future of UK aerospace #growth pic.twitter.com/TXxCm9gm0V

— Invest NI (@InvestNI) May 25, 2017
The global Cabin Interiors Market is growing, fuelled by evolving trends, requirement for lighter materials and of course the production of more aircraft. Seating is a significant segment in this market and given Northern Ireland's reputation as the world's leading region in aircraft seating, Invest NI is working to help ensure local businesses can position themselves to benefit from these opportunities.
The collaboration by Bradfor Ltd, seat cover manufacturer and plastic injection moulding company, IPC Mouldings to successfully develop the POISE concept seat with leading design company tangerine and magnesium manufacturer, Magnesium Elektron is evidence of the efforts being made to develop a readymade supply chain which could benefit local manufactures.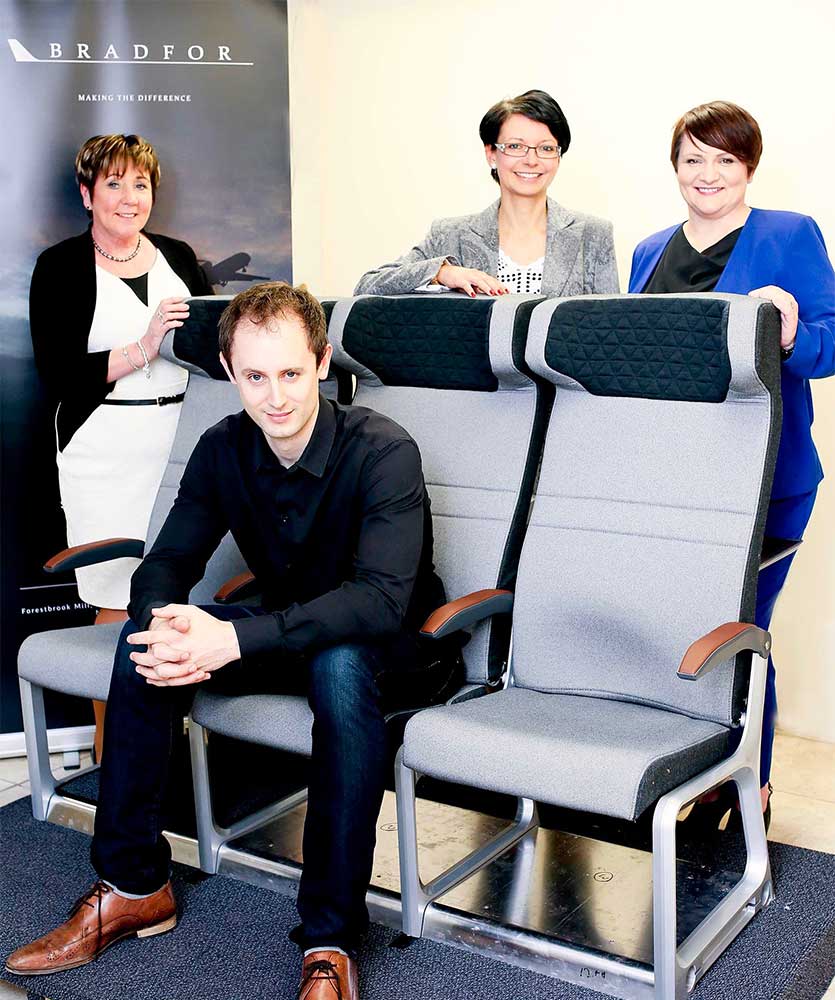 Commenting on the partnership, Bill Montgomery, Invest NI Director of Advanced Manufacturing & Engineering said:
" The interiors market is a niche area of the aerospace industry with valuable commercial opportunities for Northern Ireland's manufacturers. This is an exciting collaboration for Bradfor Ltd and IPC Mouldings which has the potential to help leverage new international business. "

Bill Montgomery, Invest NI Director of Advanced Manufacturing & Engineering
Northern Ireland boasts a growing cluster of companies that work on all aspects of aircraft interiors from the manufacture of mouldings, seat components through to the seats covers.
ADS, Invest NI and our local businesses take every opportunity to profile #AerospaceNI and promote our offerings on a global stage.
Supporting our companies to exhibit and visit international events including Aircraft Interiors Expo, Hamburg, Aero Engine Forum, Birmingham, Dublin Aviation Summit and Paris Airshow form part of our efforts to help businesses who are keen to explore new opportunities.
The Northern Ireland Aerospace stand is open for business at @salondubourget. Visit our stand at Hall 2b G172 #PAS2017 #SalonduBourget pic.twitter.com/3EBjMoEjfm

— Invest NI Europe (@InvestNI_Europe) June 19, 2017
Over 30 local companies exhibited and attended these recent aerospace events. The representatives participated in many 1:1 meetings and networked with potential customers from Europe and beyond.
Invest NI CEO Alastair Hamilton joined local delegates attending Paris Air Show and is pictured below with Jonathan McAuley and David Condell from McAuley Engineering and Kelly Murphy, Invest NI.
Among the VIPs to attend Paris Air Show was Richard Harrington MP who visited the Northern Ireland stand and spoke to Northern Ireland exhibitors including Mark Semple and Chris Mulholland from Moyola Precision Engineering.
Mark Semple & Chris Mulholland from @MoyolaPrecision, with Leslie Orr from ADS Northern Ireland, greet Minister Richard Harrington. #PAS17 pic.twitter.com/dIgjQUGZ9g

— Invest NI Europe (@InvestNI_Europe) June 19, 2017
Further information
Feature | The Farnborough Airshow Experience
Northern Ireland aerospace and defence sector