Latest results show good progress towards 2017-21 Business Strategy Targets, with final year now subject to COVID-19 impact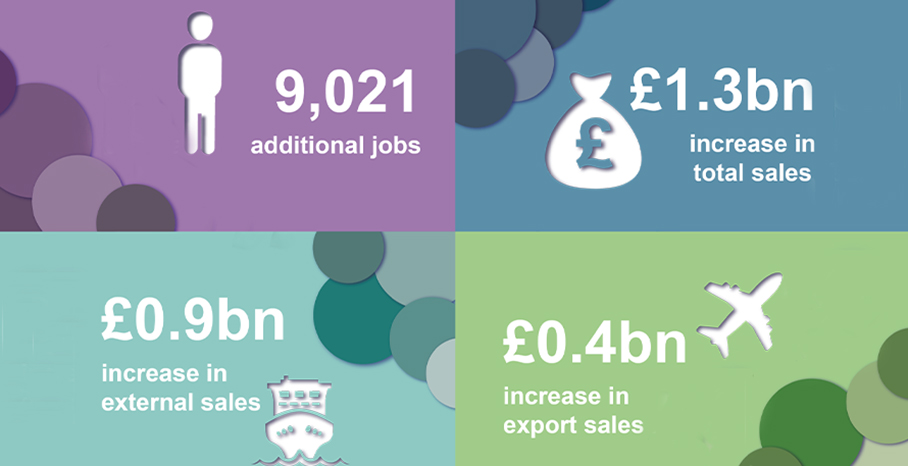 Each year we report our end of year performances figures, highlighting in particular our progress against our four year Business Strategy

targets which were set as part of the draft Programme for Government.
Progress
This year, while we have detailed our outcomes at the end of March 2020 in the image above, we do so with the full appreciation that this reflects business before the human and economic impact of COVID-19 and not the current business and economic situation in Northern Ireland.
Year three of our four year strategy saw further strong progress towards four of our key outcome targets.
To measure the impact of our work, and progress towards these targets, we use data provided to us by a cohort of businesses that we work intensively with. This data is based on actual changes in their business metrics during the financial year.
Creating jobs
As a result of our support to both local and externally-owned companies over recent years we saw the number of people employed in this cohort of businesses grow by over 9,000.
This strong result placed us above our Year three target and already close to the lower range of our four year target. We remain hopeful for a strong outcome at the end of year four.
Increasing sales
The progress towards our sales and exports targets remained strong and at the end of the year we surpassed the upper end of our four year target across all three measures – total sales (sales and exports included), external sales (includes GB sales), and exports (sales to markets outside of the UK). This augurs well for future economic recovery plans.
Selling outside of Northern Ireland and bringing money into the region is crucial for the strength of our economy and we were particularly pleased to see such good results across these measures.
R+D (2 year results)
The final of our targets is to support business investment in Research and Development. The measure is based on the results of the annual NISRA NI Research & Development Survey and is time-lagged with the survey results due later this autumn.
As you can see from the outturn for year two, progress against this target has been disappointing. While there has been an increase in the number of companies engaged in business R&D over the year, the ten biggest spending companies still account for a third of all R&D spend in Northern Ireland.
In an effort to increase company investment in R&D we launched a new initiative, Innovate NI last year. We are partnering with local councils and further education colleges to deliver this initiative on behalf of the Department for the Economy.
As well as providing practical advice for businesses on how to become more innovative, the programme also includes a unique Northern Ireland Innovation Accreditation Scheme, awarding bronze, silver, gold or platinum level award in recognition of their current level of innovation.
Combined with our other innovation and R&D support, it is hoped that this will stimulate greater appreciation of, and investment in innovation and R&D within businesses here and through this help to drive competitiveness.
Breakdown of performance by council area
To access information on these outturns by council area, click on the specific region of the map you are interested in.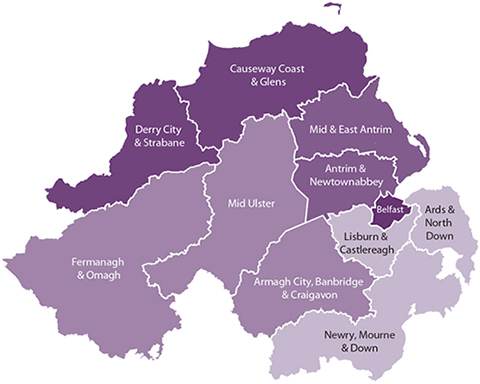 Taking a closer look
There is more to Invest NI's activity that these four headline reporting metrics, with an extensive range of support for all businesses, of all sizes, and in all parts of Northern Ireland. We will share this aspect of our work in a follow-up piece in the coming weeks.
New Reality post-COVID
As commented at the start, NI and the global economy are now in a very different reality. As we ended the financial year, the Northern Ireland and global economy entered into a rapid downturn as the COVID-19 pandemic swept from country to country. This has resulted in an immediate reduction in exports and a contraction of the labour market.
The future of jobs, in some sectors at least, is a concern. There are some growing sectors and businesses that are seeing increased demand for their products and services, or have adjusted their business towards products now in demand (such as PPE). As a result, some companies are expanding their workforce, but this is unlikely to balance out the losses in other areas over the short term.
In addition, we appreciate that some of the projects and new jobs we announced during the course of the year may be delayed, or may not progress at all. This will impact on job growth in the 2020/2021 financial year and potentially for longer.
Thankfully, some countries are already starting to emerge from their COVID-19 lockdown with businesses reopening and people returning to work. This will provide an opportunity for our existing exporters, and for those businesses looking at repurposing or diversifying their products and services.
Looking Ahead
2020/2021 is the final year of our current Business Strategy. We will maintain a focus on this while also rebalancing our priorities to provide emergency business support and to support broader economic recovery. We anticipate that recovery will differ in terms of both scale and pace in various sectors, and as different markets re-open and consumer demand returns.
We are a small, smart, resilient and agile economy which means that Northern Ireland can respond at pace. As markets begin to reopen, Northern Ireland's unique position and relationship with the US to the west, and Great Britain, Ireland and Europe to the east and south, will place us in a strong position to rebuild our exports, attract investment, stimulate innovation and bring money into Northern Ireland to refuel our economy and fund wider public priorities.
Our focus will be on providing province-wide solutions delivered in collaboration with partners. We will provide comprehensive support and guidance to help businesses to review their own strategies, deliver targeted assistance to address the specific challenges raised as a result of COVID-19, and provide expertise and financial assistance to help companies innovate, seek new markets and invest in staff and skills, so they can begin to grow again.
The future will not be the same as the past but we will use every opportunity to help rebuild a globally competitive Northern Ireland economy to be proud of.