New Energy Efficiency Capital Grant to help businesses benefit from long term cost savings and carbon savings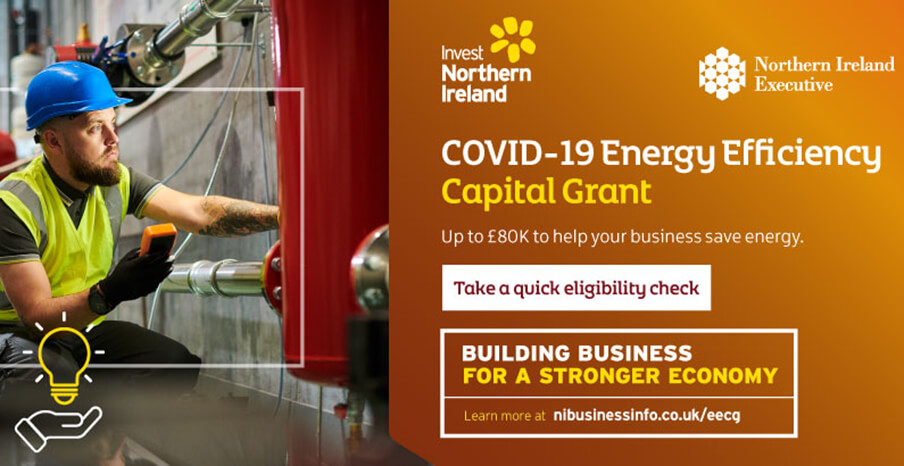 Open for applications from today, the new COVID-19 Energy Efficiency Capital Grant (EECG) will support businesses to implement energy efficiency initiatives that will help to build resilience, deliver savings and help our environment.
Supporting businesses to make these investments now will ensure they are able to benefit from the long term savings by being more energy efficient, well into the future.
Kevin Holland, CEO, Invest NI
About the scheme
This new scheme will provide eligible businesses with a maximum grant of up to £80,000 towards 20 per cent of the eligible costs of installing new energy efficient equipment.
Business will benefit from improved energy efficiency which brings increased productivity, and significant environmental benefits including carbon reduction.
It is anticipated that this scheme will act as an initial step in the development of longer term support for business.
Examples of energy projects that will be eligible under the COVID-19 Energy Efficiency Capital Grant include:
LED lighting systems

Heating and cooling equipment

Process insulation

Replacement drives and motors 
Projects supported by the COVID-19 Energy Efficiency Capital Grant are required to demonstrate:
A simple financial payback between 1 and 6 years through energy cost savings; and

A reduction of carbon emissions by at least 10%
The COVID-19 Energy Efficiency Capital Grant is open to Invest NI customers or any business that can become an Invest NI customer by demonstrating they can meet the qualifying criteria of:
Reaching a turnover of £250,000 per annum within 5 years;

Achieving at least 25% of those sales outside of Northern Ireland.
Applications are now open
To access the application form please complete the Eligibility Checker.
Please also read the Guidance Notes for details of what you will need to provide as part of your application.
The COVID-19 Energy Efficiency Capital Grant will be issued to eligible businesses on a first-come first-served basis.
The closing date for applications is 5pm on Thursday 7th January 2021 or when the available budget of £500,000 has been fully allocated, whichever is first.
---
Read more of our COVID-19 response features: