Support for local start ups
Answers, answers, answers
If you're thinking of setting up a business or a social enterprise, or have recently started a business in Northern Ireland for local customers, you've probably got a million questions in your head. How do I do market research? How do I write a robust business plan? What do I need to be aware of when employing people? How do I deal with tax?
nibusinessinfo.co.uk
nibusinessinfo.co.uk will give you all the answers through My New Business, a free online service that provides step-by-step support to starting a business.
My New Business offers access to a wide range of videos, tools, e-learning tutorials and case studies alongside key start-up tips and advice. You can use their checklists to help you complete the distinct tasks you must consider when starting a business. There is also clear signposting to the start-up programmes and events offered by Councils and organisations such as the Enterprise NI, YENI, Women in Business NI, Social Enterprise NI and Catalyst Inc.
From Student to First sale (FS2FS)
Graduates with a viable business idea can apply for a £15,000 grant to help them transition to self-employment.
The support is available to students that have graduated within the last six months, should be working with university or students' union enterprise support services and have the potential to meet Invest NI's criteria for a new start-up business.
The criteria to become a customer with Invest NI is as follows: 
Reach a turnover of £250K per annum within 5 years; and 
Achieve at least 25 per cent of those sales outside of Northern Ireland.
For more information contact our Business Support Team on 0800 181 4422 or Contact us.
Business advisory service
You can also access our free Business advisory service.
It is on hand to:
Offer tailored advice and guidance
Signpost you to the most appropriate start-up support for your business
Provide information on all of Northern Ireland's business support organisations that could support your business
You can contact our Business advisory service on 0800 181 4422 or Contact us.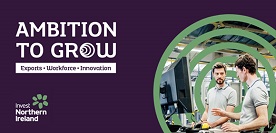 Ambition to Grow
Receive up to £45,000 in funding and Invest NI support.
nibusinessinfo.co.uk guides