Showcasing Northern Ireland's Life and Health Sciences Expertise to the World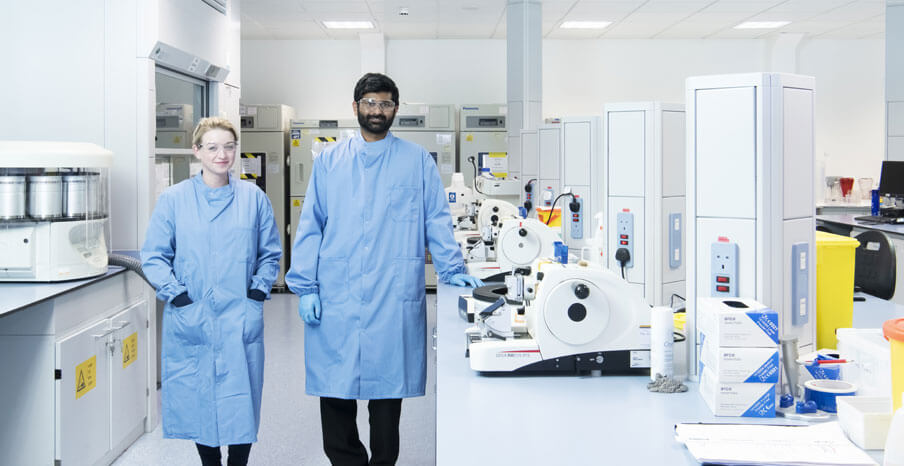 Invest NI showcases Northern Ireland's world-leading expertise within the life and health sciences sector to local and international audiences throughout October 2022. 
The region's innovative life and health sciences companies gained valuable opportunities to promote their products and services, find new customers and generate new sales. 
A growing sector 
The life and health sciences sector has achieved double-digit growth in revenue, employment and exports over the last five years. Sales have grown 10 per cent over the last five years to £1.6bn and this has included over £1bn in exports.  Companies in the sector employ over 9,400 people.
Even more importantly, companies in this sector are improving people's health outcomes globally through successful biomedical research developments in cancer, cardiovascular disease and cystic fibrosis.
Over 80 Invest NI clients have expertise covering precision medicine, pharma and biotech, clinical trials, diagnostics and medtech.
Northern Ireland boasts world-class research facilities at Queen's University and Ulster University and both universities rank in the top 10 in the UK for bioscience research. Researchers are recognised as being at the forefront of technology in health data analytics, statistics, modelling, simulation and the use of artificial intelligence. 
The region has several unique advantages for medical research and clinical trials with a small population of 1.9m, an integrated Health and Social Care system and the Electronic Care Record (NIECR) which makes it possible to access digital health from cradle to grave.
Recent government investment includes £141m through City and Growth deals, offering exciting future opportunities for healthcare in Northern Ireland.  The following innovation centres are being proposed:
Centre for Digital Healthcare Technology (CDHT)
i-REACH (Institute of Research Excellence for Advanced Clinical Healthcare)
Global Innovation Institute (GII)
Transformation for Healthcare Research Innovation and Value-Based Ecosystem (THRIVE)
---
Invest NI led a delegation of seven companies to The MedTech Conference in Boston from 24 - 26 October. Our internationally accredited companies met the world's top medtech executives and innovators, from over 40 countries, over three days of programmes, networking, business development and collaboration.
At the conference, Northern Ireland medtech company, Neurovalens, was recognised as one of the world's leading medical device start-ups of 2022.
Other companies and organisations that attended include:
---
Invest NI also led a delegation of seven clients to BIO-Europe from 24 - 26 October in Leipzig, Germany. The region's life and health science companies joined a wide range of large and midsize pharmaceutical companies, investors and other industry experts at Europe's largest partnering conference for biotech, pharmaceutical and biotech R&D.
Companies that attended include:
---
Invest NI sponsored the Northern Ireland Annual Conference and Exhibition 2022 (NICON22).  As the leading conference in NI's health and social care calendar, it afforded Invest NI the opportunity to strengthen relationships with key partners to help support collaboration between the Department of Health and the Department for the Economy. These partners include Health Innovation Research Alliance Northern Ireland HIRANI (an Invest NI-sponsored organisation) and The Medicine Optimisation Innovation Centre (MOIC).