Invest NI 2021/22 performance strong despite economic and delivery challenges
Considering the continuing challenges for both NI businesses and us, the results we are presenting are testament to the resilience of those businesses we have worked with, and our own team's drive and determination.
Our impact
This year, for the first time, the annual performance of the portfolio of companies we work most closely with has been recognised and published as Official Statistics.
These show that, in 2021, those businesses we work closest with employed 131,899 people, dominated across four sectors: Advanced Engineering & Manufacturing, Financial Professional & Business Services, Agri-Food and Construction.
Collectively, these 1,800 businesses generated total sales of £22.8bn, of which £17.8bn went outside Northern Ireland, with £7.8bn being exports. Advanced engineering & manufacturing business and Agri-Food businesses account for circa half of all sales.
2021/22 overview of performance
We made just over 2,500 offers to businesses in 2021/22. This is down slightly on 2020/21 for a number of reasons: wider economic conditions, COVID hangover, and a pause in our ability to issue Letters of Offer while an NI Executive budget consultation took place. This pause in offers stalled performance across our three main performance areas – R&D, Skills and Jobs.
However, even with this slightly reduced number of offers we still delivered:
Last year, 108 companies secured £66m of vital funding through our Access to Finance Funds to fuel their growth.
As well as supporting established companies to expand, we also helped many entrepreneurs and early start-ups get a foot on the ladder. Securing the funding to set up and grow a business is one challenge many entrepreneurs and micro and small businesses face. Our suite of Access to Finance funds helps businesses of all sizes to get that funding.
We also supported 60 innovative High Technology companies in their pre-commercialisation process and 11 High Potential Start Up businesses and launched our new promotional campaign, MyNewBusiness, to celebrate and promote entrepreneurship.
Driving higher levels of innovation is a key pillar of the Department for Economy's 10X Vision. We helped secure £78m of R&D commitments by businesses during the year. This included a £40m R&D investment by PwC. It is creating a new Advanced Research and Engineering centre in Northern Ireland, which will create almost 800 new jobs.
More detail on our performance can be found in our 2021/22 Annual Report.
Regional impact
Some 2,000 (77 percent) of the offers made in 2021/22 were outside of Belfast.
Some 2,000 (77 percent) of the offers made in 2021/22 were outside of Belfast, supporting the Department for Economy's objective of a strong regionally balanced economy.
70 percent of the 3,400+ new jobs to be created through our support will pay salaries above the NI Private Sector Median and 2,000 (nearly 60 percent) of these new jobs will be created will be outside Belfast.
For a breakdown of our support by region, please click on the relevant council area below.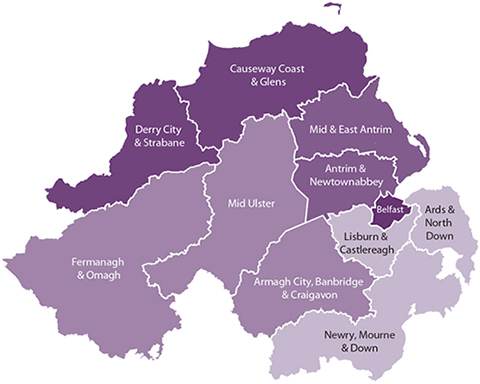 Profiling Northern Ireland for investment and trade
A substantial part of the work of our overseas network of 24 offices is helping our exporters to convert their activity in to firm sales.
Last year this assistance helped companies generate over £150m of new sales. We also helped 121 businesses take that first step selling beyond NI and a further 258 to progress to other markets, through our "Going Dutch" and similar trade initiatives.
With face-to-face meetings and international travel severely constrained, our international teams continued to engage with potential investors and hosted virtual visits. As a result, we secured 15 new first-time investors over the year.
These included, Wolfspeed Inc. which announced plans to establish a Global Capabilities Centre in Belfast, Australian drill rig manufacturer, Tribe Technology, which is establishing a manufacturing facility in Newtownabbey and South African food company, Moorcroft Foods which is establishing a manufacturing facility in Newtownards. Other new investors included ASOS, Workrise and Agio.
Dubai Expo 2020 was also a major event in our calendar, showcasing the best of Northern Ireland to a global audience of over 20 million. 50 local experts and businesses including Professor Chris Elliott from QUB, Irene McAleese from See Sense to globally renowned Lowden Guitars, participated in webinars, thought-leadership talks, and events. Our participation culminated with a NI Day on 16 February in the UK pavilion, taking a little bit of NI's culture, tourism and business proposition to Dubai.
Future focus
Our 2022/23 Business Plan (to be published later this summer) will bridge the interim period between the end of our previous four-year Business Strategy and the development of our new longer term strategy from April 2023 onwards. This is to ensure that our new Business Strategy can be adapted to reflect the aims and objectives of the newly constituted NI Executive. It will also expand our collaborative work with the Department for the Economy, and other stakeholders and partners, for example through the 10X workstreams interactions, to further sharpen our 10X delivery.