Supporting Northern Ireland's business growth for 20 years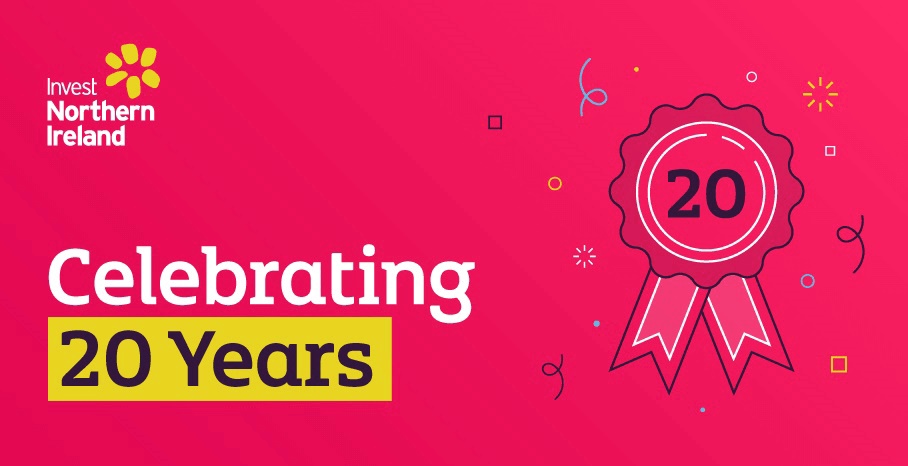 This year, we're marking 20 years of Invest Northern Ireland.
This video shows how our support has helped to shape Northern Ireland's economy over the past 20 years:
About us
Invest NI opened its doors in 2002 as an arms' length body of the Department of Enterprise Trade and Investment (DETI) at the time.
While we've seen many different changes in the business landscape over the last two decades, our mission to support businesses and grow the local economy has always remained the same.
Our team, both locally and internationally, has supported many ambitious, innovative businesses. Some companies have even been with us on their business journey from the very beginning, such as DeliLites in Newry and McColgans Quality Foods in Strabane, and have grown with us to become innovative, international businesses.
We've also worked with 100s of SMEs including Lisburn's StormHarvester, Modern Democracy in Derry and Mackle Petfoods in Dungannon; and large-scale organisations like PwC, Mid Ulster's Tobermore Concrete and Denroy in Bangor, and everything in between.
Our support ranges from advice, free webinars, workshops, programmes and property searches to financial assistance for job creation, product and skills development and help to export.
Adapting to the business landscape
There has always been an entrepreneurial spirit, vision and drive within Northern Ireland. This has been well test in recent years as businesses adapt to the EU Exit and adjust to respond to the impact of a global pandemic.
We've supported companies continually throughout these challenging business times through tailored advice, free guidance and resources on our business information site nibusinessinfo.co.uk, webinars, programmes of support and nine dedicated COVID-19 recovery support schemes.
To the next 20 years
As we look towards the future of business in Northern Ireland, we are presented with an exciting opportunity to build on our success to date.
As part of this, we will support the Department for the Economy's 10X Economic Vision and its priorities such as green economy, innovation, emerging technologies, and key sectors. This will inform our 2022/23 Business Plan, before our new our new longer-term strategy takes shape from April 2023 onwards. This way, we can continue to support the NI business community in new ways, but with the same commitment and passion as the last 20 years.
Read more on our support to businesses over the past 20 years and the last financial year.